DATE
20th May 2016

Officially out now: another 7" taken from the re-issued album Communication – limited to 1.000 pieces!

Originally released in 2000, the programmatic track »15 Minutes of Fame« was the first single Bartos released and was an exciting peek into the world that was his upcoming full album. Inspired by Andy Warhol's statement, "In the future, everybody will be world famous for 15 minutes," Bartos used this as a template to comment on the increasing rise of celebrity culture unleashed by casting shows, reality TV programs, cooking contests etc. As Warhol had predicted and Bartos also tapped into, anyone could, and was becoming, famous, whether it was through singing, dancing, cooking, losing weight or surviving in a fake jungle. Communication takes this theme and societal observations further by focusing them through multiple aspects, of what Bartos calls our "new media reality".

Available digitally for the first time.
THE MESSAGE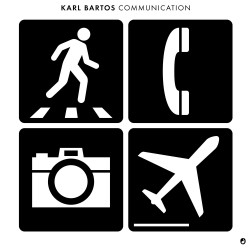 Re-Issue: Communication 2016

Communication
Re-Mastering by Michael Schwabe, Monoposto Düsseldorf, Germany
"Karl Bartos quit Kraftwerk when the music became secondary to the cycling, his refurbished, expanded 2003 album, Communication, offering a reminder of what we (and clearly, he) had been missing."
The Independent, 26 March 2016
"Karl Bartos has a history of living in the future."
Q-Magazine, May 2016
"...the most gripping moments come when he drops the robo-larynx and lets the human emotion of his untreated voice fly, as on Ultraviolet"
Record Collector, March 2016
"Communication" ist damit ein Schatz, den jeder jederzeit hätte heben können (...) Sein erneutes Bergen war damit überfällig – für das Herausstellen seiner Bedeutung als existenzielles Manifest der elektromusikalischen Musikhistorie sowie der digitalen Revolution im Ganzen."
Galore, April 2016